"I knew nothing, and I persisted in the faith that the time of cruel miracles was not past."

— Stanislaw Lem, Solaris


---






Monday, October 18th, 2004



Apologies for the delay - I'll make the update this evening, after work.

Update: Notes on Ubercon... On the whole, while meeting various artists and attending seminars on creating web comics was pleasant, I'm afraid that not much was a surprise to me. I already knew that creating comics is primarily a creative outlet and not a project to earn extra retirement money, for instance... while everyone dreams that their own projects, filled with personal meaning, will become popular enough to pay the bills, I have no such illusions for Bune Station. I can see it being good, and perhaps being popular with certain groups, but I expect to put much more into it than I ever get back, in a sense of return on invested time.

Herewith a small mood sketch, entitled "Sitting in a parking garage in Secaucus, NJ next to a buzzing blue transformer, eating junk food and watching the water and wondering with my friend Laura whether the bright spot in the pink light-polluted clouds is the moon or a factory light."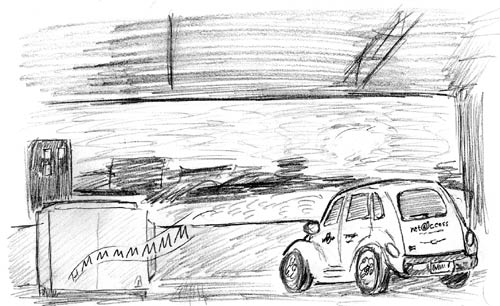 Until!


---