"I knew nothing, and I persisted in the faith that the time of cruel miracles was not past."

— Stanislaw Lem, Solaris


---


Thursday, October 21st, 2004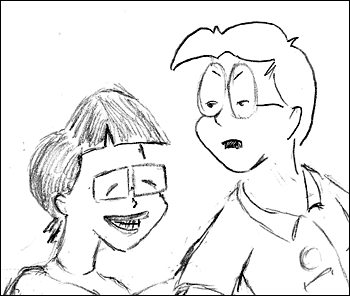 Why am I drawing these characters from www.somethingpositive.net? Not to prove a point. I just like parodies, and I like Randy Milholland's work, and I thought of a neat idea for a piece of fan art...

So what's it going to be? I'll have it finished next time I post.

I mentioned last time that I would compile the threads I've begun on PaaT and allowed to trail off into nothingness. It would be ironic if I failed to provide this list, but this time I throw irony's keys into the weeds and tattoo its license plate number onto my thigh. Here's the list:
A discussion of Stanislaw Lem's book of alien contact, Fiasco;
The remaining simple machines in the "Why The Eaie Have Legs" series;
The sculpture of an Eaiean skull
And of primary importance, I have to do art that directly relates to the realization of Bune Station. Slowly, grimly, I steer my attention back on track...

Until!


---