"If you think with your emotions, slight glandular changes are sufficient to revise your entire outlook."

— Brian Aldiss


---


Thursday, June 8th, 2006
This will be a short entry, as Laura and I have signed up for a booth at this weekend's Fishawack festival in Chatham, NJ. We will be advertising for Green Village Computer Help, and our booth will be on South Passaic Street. If you happen to be in the area, feel free to stop by and say hi.
I may update this entry on Sunday; if not, PaaT will resume as usual next Monday.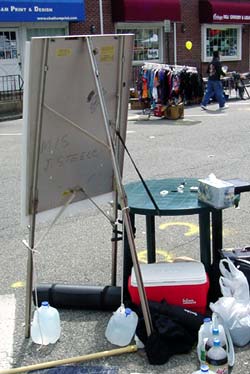 Update: Fishawack went well, even though we were both running on about three hours of sleep - it took rather longer to prepare than we had planned for. I was unable to get a sign printed so close to the event, so I made my own, buying a 30 x 40 inch sheet of foamboard and using Illustrator to print the art out in sections on letter-size paper, which was then trimmed and attached to the board using spray adhesive. We bought a pair of chairs, a cheap umbrella for shade, and a small table to hold our laptop, the literature and contest entry forms, and some puzzles to generate extra interest. In my haste, I grabbed some nylon rope, bungee cords and scotch tape for emergency adjustments, not thinking clearly about what might lie ahead...
We got to our assigned space at 8:40 AM, with about an hour and a half to go until the festival started. We unloaded the car and set up the sign on our display easel. I then left Laura to continue setting up while I found a place to park the car. By the time I got back, the wind had blown the easel over twice, and was working on dismantling other people's setups as well. Fortunately, I remembered some advice given to me by my friend Mike Levine, an experienced market vendor. At the Cottage Deli across the way, I was able to buy four gallon-jugs of water to use as weights to hold the easel down, and I also used the bungee cords to secure the easel to the table. The nylon cord was too slippery for me to tie properly, but a local hardware store supplied some cotton rope, cable ties, fiberglass packing tape, and a U-clamp to keep the umbrella from flying out of the hole in the table.
We taped down the literature holders, set up our chairs and the cooler, and we were ready at 10 to face our potential customers.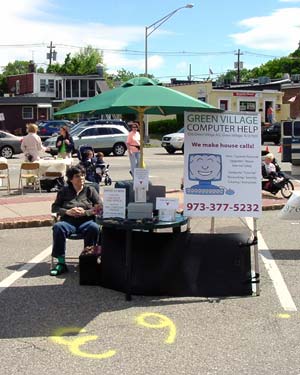 The day went well; I estimate that we made about 30 client contacts, and we had our logo displayed prominently as hundreds of people walked by. (Since we were presenting our service and hoping to increase name recognition, rather than selling merchandise, only time will tell how well we actually did.) Other than the wind, it was a beautiful day. Mike has told me of days he experienced where the wind was strong enough to pick up tarpaulins and canopies, along with their frameworks and assorted merchandise, and blow them over people's heads and several aisles away, sometimes accompanied by heavy rain. We had no such bad luck, but I suspect it's only a matter of time.
That's all for now. Until!
---