"If you think with your emotions, slight glandular changes are sufficient to revise your entire outlook."

— Brian Aldiss


---


Thursday, June 1st, 2006
I acquired a drawing table last year. It sat in the basement for a few months, was brought up and cleaned when my old roommate moved out and Laura moved in, and then served as a regular table for a while, holding some audio equipment. This is what often happens to drawing tables in the computer age; when I worked as a technical writer and illustrator several years back, I was given an office with a beautiful, state of the art drafting table that had electric controls for raising, lowering and adjusting the tilt of the drawing surface. I did all my work in AutoCAD and Adobe Illustrator, and the table served only to hold various parts that I was drawing at the time.
Regardless, drawing tables are still useful for freehand drawing, and once the apartment got cleaned for our Memorial Day gathering, I had room to move the stereo equipment off the table. I also bought a conveniently sized elevated chair at a local thrift store, and so I had no further reason not to use the table. After wasting some time in removing old pieces of tape from the drawing surface (any drawing table that sees professional use gets covered in little bits of clear and masking tape), I did the following on black paper, using oil pastels and a china marker. Click the image to enlarge it.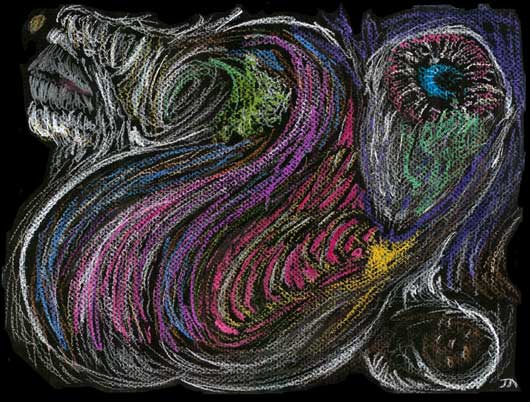 I meant this originally as just an exercise to get used to the drawing table, but the table and chair worked so well that I was able to enter an appropriate state of mind with no difficulty. The general intent of the picture is to express the horror of being organic; born from muck, prey to ills and contagions, and doomed to implacable decay.
The next one will be a bit cheerier. Until!
---