Thursday, April 20th, 2006
I've been tending to GVCH and haven't worked on the three way chess board rules. However, I did develop an advertising piece that may be of interest. It's a small ad, designed to be hung on a wall, with an attached business card holder.
It starts out looking like this: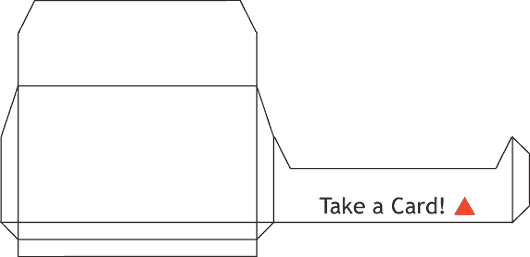 You can download this file as a PDF for your own use. Just cut along the outside lines and score along the inside lines. The two small triangle shaped areas at the bottom can be cut out and discarded, or you can cut one edge of them to make a tab for added strength. The large tab at the top can be printed upon and folded over to show a 'no more cards' message inside the holder. In my present application, I used the large tab as an attachment point to the rest of the piece, so I backprinted the message and phone number, as you'll see at the bottom of the page.
To assemble, lay the piece "Take A Card" side down and fold everything up, as shown below.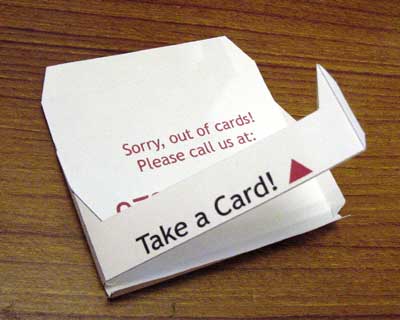 Use rubber cement or standard white glue on the tabs. I found it easiest to first glue the tab on the "Take A Card" side under the opposing flap, then smear some glue on the bottom flap and tuck it in.
Here's the finished product, full of business cards and attached to a GVCH postcard which was rendered useless for mailing due to a printing error on the reverse side.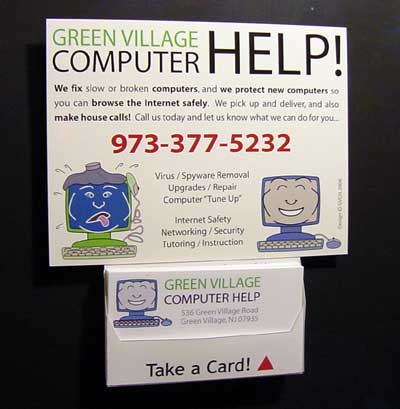 Here's how it looks when it's empty.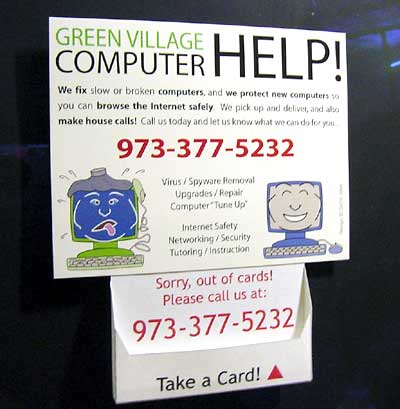 That's all for this time. Until!
---