Thursday, April 13th, 2006
This entry is three days late. Shame on me.
In my early teens, I designed a variant chess board for three players. I later found that the design had been discovered by others, and so I never did much with it. Recently, I found the old board I had made, but it was in terrible shape, so I decided to recreate it in Illustrator and print it out in sections. (The original was hand drawn on poster board, and the marker ink I had used had bled over the white areas of the board.)
The replacement board, in use with two friends, is shown below. The labelled pyramids that are being used to represent the third side are Icehouse pieces from Looney Labs; they have been pressed into service from my Volcano set. Sadly, I lost the first game, but I'm looking forward to a rematch.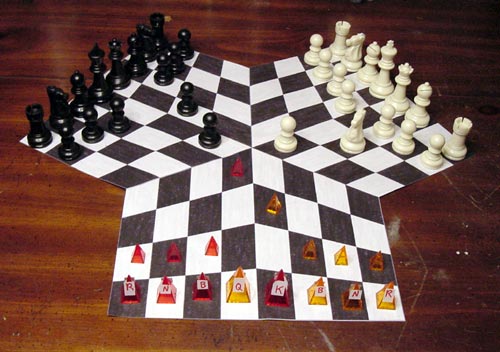 I have created a PDF file which you can use to try out this game. You'll need six pieces of letter or A4 sized cardstock, and one and a half sets of chesspieces. (If you want to complete the paper theme, or you need an extra half set, you can try these paper chess pieces designed by Peter J. Visser.) Assembly should be fairly obvious, but I've included an instruction sheet in the PDF should you need it. I tried to make it as non-language specific as I could - let me know if you think I succeeded.
Download the three-way chess board (47k)
(To view and print this file, you may need to install the free Adobe Acrobat Reader).
My friends and I have not entirely formalized a set of rules, and some points remain hazy or ambiguous. I'll try to cover most of the interesting points in the next entry. In the meantime, it may amuse you to try a few games and see what you make of it.
Until!
---