Thursday, August 11th, 2005
My hand hurts tonight, so I won't be doing the drawing that I planned. I shouldn't be typing, either, but I'm not going to make a point out of it.
For this entry, I'm pulling another one out of the archives. The piece below is likely among my first attempts to portray something alien or fantastic; it was probably drawn in the mid to late 80's. Please excuse the gridlines, which are from the graph paper I drew it on. Because of the way I scanned it, I can't easily remove those lines, although you'll note that I once made a start of it on the top half. It will be much easier just to rescan the image properly once I locate the original.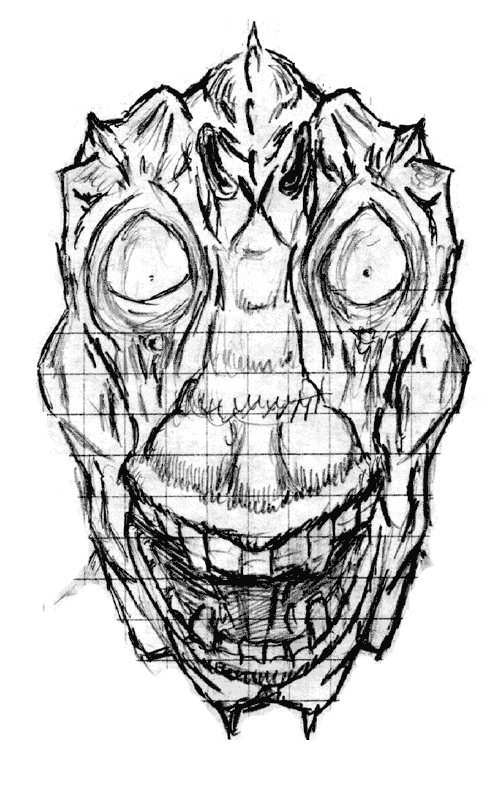 I was a D$D fan at the time, and I think I was trying to come up with a variation on the standard lizard man. (The eyelids open vertically, and the nostrils are a pair of slits located high on the forehead.) Nonetheless, there are some unintended visual puns lurking, in the form of two more faces. Stop reading here if you want to try to spot them yourself.
The first face is at the top; its eyes are formed by the nostrils, and it appears to be wearing a spiked and horned helmet.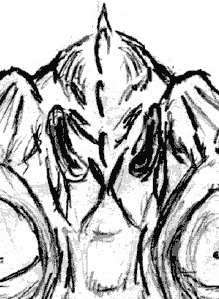 The eyes and nose of the second face are formed by a bulges in the upper lip.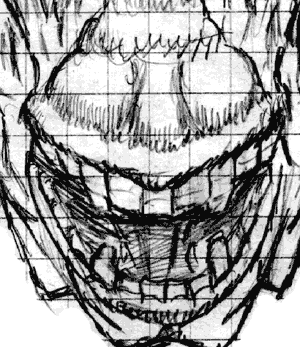 Laura found these faces shortly after I first showed her this image; up until tonight, I was not even aware of them. Laura found a few other suggestive things as well, but she has a dirty mind. I'll say no more.
Until!
---