"Is it golden?" I said.

"I don't know. It is Odin's disk and it has only one side."

— J. L. Borges, The Disk.


---


Thursday, August 19th, 2004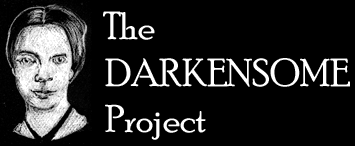 It's been a busy week here, but I've managed to get some art in. What you see above is my logo for The Darkensome Project, another site I've been working on. Darkensome concerns verse more than illustration, so it's appropriate to give it its own site, but I can discuss a few aspects of it here.

Darkensome started with my friend Charles Hardin. Treating the existing works of Emily Dickinson as being analogous to William Blake's Songs of Innocence, he wondered what some of her Songs of Experience might be like. To this end, he wrote the first few lines of a verse parody of Emily Dickinson's Hope, and I completed it:

Hatred is the thing with scales
That slithers in the soul,
And howls a hard and desperate song,
And sleep denies us all.

And sharpest in the night is felt;
And sour much the balm
That puts the writhing thing to rest
And cheats the foe of harm.

It's touched me in my calmest time
And calls me when I'm free,
Yet never does requital give —
That task it leaves to me.

My fondness for, and skill at, verse parody led me to dream of putting this and other efforts online. The Darkensome Project is meant to collect my parodies and those of others who wish to contribute, with emphasis on the 'classics,' that is to say, venerated works that may or may not (but likely may) stand in need of a thorough drubbing.

Chuck's selection of Dickinson's poem sparked the name 'Darkensome' to my mind. I bear the poet herself no special malice, but it amused me to think of how a scurrilous and assertive counterpart of hers might have turned out, which led to the drawing above. It was done with white pencil on black paper, media which I plan to use when I illustrate alien modes of perception in the main project. (Lettering was done in Photoshop.) The drawing is based on what is perhaps the most famous photo of Ms. Dickinson; I wanted to keep the innocence of her face while turning the awkwardness to a sinister smirk of cold appraisal. I may or may not have been successful. I will probably approach this again using scratchboard, which gives a starker line.

This journal, as journals often do, has been jumping around a bit. Since it's the purpose of this site to keep my creative skills functioning, things are so far going as planned. The ability to focus on one project and bring it off without distraction is one of the things I mean to teach myself...

Until!


---